Wrong fuel in your Mercedes E class? C class? S class?
We do them often and we do them well, we see between 5 and 10 mixed fuel mercs a week so you are in good company!.
 Firstly do not call your dealer, franchised mercedes dealers have an awful habit of charging an arm and a leg for un-needed repairs to Mercs that have misfuelled, sometimes even insisting on major work being done to cars that have been not been driven after the deed was did.
Mercedes are a type of car that I would not suggest draining yourself unless you are confident in what you are doing and  comfortable holding a spanner.
Firstly all mercedes apart from the A class, are rear wheel drive, this means the fuel tank sits in the back hanging over the prop shaft like so.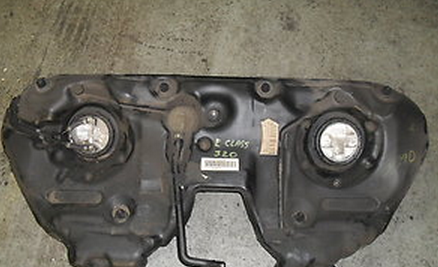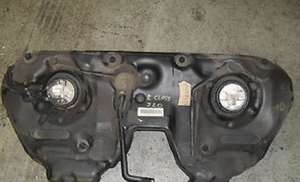 As you can see it is a 2 cell design, akin to a saddle bag, (with the propshaft and exhaust being the horse) and of course there's some clever trickery involving pumps and balancing units to make this all work.
The only drawback to this is if you misfuel these these tanks, the standard method of a suction tube down the filler neck will not empty both cells as the fuel in the far cell (far as in the far side from the filler neck) will not be transfered into the near cell unless the car is running and the onboard balancing system is running, unfortunately not an option if you have misfueld.
Depending on your model of mercedes we have a whole bag of tricks to deal with this, and not all of them involve working inside the car, not that I am the nervous type but working on a pressurised fuel system in the interior of the car with the bench seat lifted out is not my idea of a calm serene fuel draining moment, especially when the car might cost half as much as my flat, (or an 8 bedroom house in Newcastle).
We keep a set of diagnostic equipment on board for mercedes so that we can deal with the twin tank problem without lifting the rear seat out and putting your prized nappa at risk, this equiptment allows us to "talk" directly to the car and engage the on board balancing pumps and senders thru the flick of a switch which is my preferred option.
A crude appraoch to the twin tank problem is to jack the car up on one side - something I dont have the bottle to do since it involves lifting it so far that most customers start to worry that the car is about to tip over.
I suggest a fuel drain by a specialist company when it comes to mercs, the few quid saved on a back street garage is just not worth it in the long run as they often cannot recover all the fuel, and when they do it involves ripping the car apart, and although fuel drainers wash occasionally - I wouldn't want one rolling about in the back of an S class if I had one.
Mercedes W203 C-Class
Mercedes R230 SL-Class
Mercedes W414 Vaneo
Mercedes C209 CLK-Class
Mercedes W211 E-Class
Mercedes C199 SLR
Mercedes W639 Vito
Mercedes W219 CLS-Class
Mercedes R171 SLK-Class
Mercedes W169 A-Class
Mercedes W251 R-Class
Mercedes W164 M-Class
Mercedes X164 B-Class
Mercedes X164 GL-Class
Mercedes W906 NCV3 Sprinter
Mercedes C216 CL-Class
Mercedes W204 C-Class
Mercedes X204 GLK-Class
Mercedes W212 E-Class
Mercedes C197 SLS AMG
Mercedes W218 CLS-Class
Mercedes R172 SLK-Class
Mercedes W246 B-Class
Mercedes X166 GL-Class
Mercedes W415 Citan
Mercedes W176 A-Class
Mercedes R231 S-Class
Mercedes W222 S-Class
Mercedes C117 CLA-Class
Mercedes X156 GLA-Class
Mercedes W205 C-Class
Mercedes W447 Vito
Mercedes C190 AMG GT
Mercedes X253 GLC-Class
Mercedes W213 E-Class
Mercedes BR470 X-Class
Mercedes W177 A-Class
Mercedes C257 CLS-Class
Mercedes AMG GT
Mercedes W463 G-Class
Mercedes EQC
Mercedes W167 GLE-Class
Mercedes W247 B-Class
Mercedes C118 CLA-Class
Mercedes X247 GLB- Class
Mercedes AMG One