Need a fuel drain in manchester?
We are fuel draining experts that can assist you in the case of accidentally filling a diesel car with petrol, or the other way around. We have a mobile fuel draining unit in Manchester that can be with you in less than half an hour.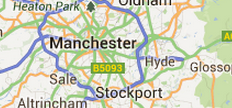 Filling up a car with the wrong type of fuel can be very problematic, but with our help your car can be up and running again in less than an hour. Our mobile unit has all the necessary equipment so there aren't any costly repairs involved and with a 99% success rate, we will get you on your way in the shortest amount of time possible.
Our recent fuel draining removals performed in Manchester include:
Fuel draining in Crumpsall: A young gentleman filled up his Ford Focus at the Esso Petrol Station on Cheetham Hill with the wrong fuel. Shortly after, his car broke down on Ashton New Road, where we assisted him and got his car running in less than 60 minutes.
Fuel draining in Pendlebury: A couple was driving home from a short trip in their diesel Ford Fiesta when they filled it up with petrol at the Tesco Petrol Station on Bolton Road. They called us from Regent Road, where their car broke down and we managed to assist them in less than 30 minutes and get them running within the hour.
Fuel draining in Withington: A person was driving home from work when she filled up her petrol Vauxhall Astra from the Texaco Petrol Station on Kingsway. She mistakenly put diesel in the car and it broke down on Oldham Road. We got there shortly and managed to get the car running in less than an hour.
Fuel draining in Bolton: A young mother was driving her sons to school when she stopped to fill up her diesel Vauxhall Corsa from the Shell Petrol Station on Tonge Moor Road. Unaware that she used the wrong fuel, her car broke down on East Lancashire Road from where she called us. The mobile unit arrived at the scene shortly and managed to get the car running in an hour.
Fuel draining in Rochdale: A young office worker was coming back from work in his VW Golf late in the evening. He stopped to fill up at the Tesco Petrol Station on Silk Street. Mistakenly, he filled it up with the wrong fuel and he called us from Middleton Road, from where he called us. We assisted him in less than 30 minutes and his car was running again in an hour.
We also have units in Liverpool & Blackpool
Fuel draining in Warrington: An older gentleman was on his way to the supermarket when he stopped at the Shell Petrol Station on Winwick Road to fill up his BMW 320d. Accidentaly, he filled it up with petrol and his car broke down on Washway Road from where he called us. We assisted him immediately and got his car running shortly.
Fuel Drain Manchester
Did you feel as though your vehicle's life is over once you learned that you drove it for miles while running on the wrong fuel? If you happened to encounter this kind of incident around the Manchester area, we can help you. Our Fuel Expert technicians have spent around three years making over 5,000 people happy after they dealt with the wrong fuel incidents.
As one of the top garages that remove wrong fuel in the UK, we can promise a 30-minute response to your wrong fuel emergency, or even less. We have proven how we can provide a perfect 10 service on any car model, anytime, anywhere.
For fuel drain in Manchester, our most recent accomplishments include the following:
Fuel drain Prestwich M25. Our team headed to the Shell station on Bury New Road and easily found a customer's Honda Civic-Type. The customer thought it was her own car when in fact it was his partner's diesel car, which she already filled with petrol. We were quick in removing 27L of petrol though in 45 minutes.
Fuel drain Higher Blackley M9. Some cricket fans were stranded on Tweedle Hill Road right before they reached the nearby cricket club. We had to hurry to make sure that they could watch the game without worrying about the Cadillac, which we had running safely in 40 minutes.
Fuel drain Middleton M24. We were sent to the Alkrington Service Station, where we siphoned almost four gallons of petrol in an hour.
Fuel drain Droylsden M43. We had to drain almost 40L of petrol from a Toyota Landcruiser, on Ashton Road despite the downpour and still complete it in 50 minutes
Fuel drain Failsworth M35. Our team suffered one of the most difficult moments as we tried to reach a stranded customer on Oldham Road despite the thick snow. However, it was worth it when we saw the customer wiped her tears and fears away the moment she heard her car's engine start again.
Fuel drain Swinton M27. Our crew helped out an elderly gentleman who misfuelled his Ford Mondeo at the Save Pendlebury station. He kept thanking us until he drove away in his perfectly restored car.
Fuel drain Salford M6. A customer filled her Volvo C30 with the wrong fuel. Fortunately, the Texaco station crew told her about us. We reached her in 30 minutes from our fuel draining in Sale and flushed the wrong fuel in another 30 minutes.
Fuel drain Wythenshawe M22. We started our Friday morning right after we saved a Jaguar from total damage when we operated on it for a full hour in the middle of Hollyhedge Road at 3am.
Fuel drain Moston M40. A customer's Audi A3 stopped in the middle of Lightbowne Road. When she called, her fear was obvious in her voice, which had us driving even hurriedly but safely to the scene. She was so relieved to see us 15 minutes after her SOS that she almost cried. We got her back on the road in 50 minutes.
Fuel drain Eccles M30. We thought we'd fail in restoring a misfuelled Hyundai i40, but we still got it back on the road in a little over an hour, thanks to our three years of experience.
Fuel drain Harpurhey M9. It was only a 15-minute drive for our team before we reached the Carisbrook Street, where a misfuelled Volvo was stranded. We got it running again after an hour  of hard work  though.
Fuel drain Stretford M32. It was a gloomy Thursday with the occasional stiff wind when our main office dispatched us to the New Wolfe Service Station on Chester Road. However, we didn't allow the uncooperative weather to delay us while performing petrol in diesel removal for an Isuzu Rodeo Denver. We even did it in less than 40 minutes.
Fuel drain Clayton M11. A couple were wondering why their Mitsubishi Outlander won't start but later noticed their receipt with petrol in it. Their friends told them about us and we didn't disappoint them by siphoning the wrong fuel in an hour.
Fuel drain Audenshaw M34. After an hour of focused work on a misfuelled Renault Laguna on Audenshaw Road, it was a relief to get a flying kiss from a very grateful tourist.
Fuel drain Didsbury M20. Who would have thought our 45-minute work on a Volkwagen Passat Tiguan right on Wilmslow Road would make us heroes, according to our customer's little girl?
Fuel drain Cheetham Hill M8. An extremely worried customer kept checking us while we're draining 35L of petrol from a Mercedes Benz, which we finished successfully. It turned out it was her boss' car but we saved her job anyway by saving the car.
Fuel drain Denton M34. We received delicious packs of tea with customised thank you cards from a customer after we helped get her Peugeot back on the road after she filled it with 18L of petrol at the Crescent Service Station.
Fuel drain Burnage M19. A customer gratefully gave us personally knitted beanie as tip after we restored her misfuelled Volvo V50 into good condition after she was stranded on Burnage Lane.
Fuel drain Trafford Park M17. Our crew had a good time with one of the coolest customers we've ever met. He's a musician who serenaded us with well-executed guitar performances while we siphoned petrol from his diesel Nissan Micra at the Trafford Park service station.
Fuel drain Urmston M41. We all got the motivation we needed for the day when the twin children of a customer whose Mercedes Benz we drained of petrol gave us two thumbs up for doing a good job on their mum's car. It could be because we got them back on the road in less than an hour.