Wrong fuel in your Kia MPV? Sedona? Sorento? Sportage? Ceed?
Well allow me to reassure you, Kia diesels can tolerate being run on mixed fuel for short periods without major harm being done.
The default inbuilt safety device that stops your diesel Kia totally destroying itself while ingesting the wrong fuel - is the simple fact that a diesel Kia will not run on petrol.
They can run on a mix of petrol up to a point, and then they just conk out, this conking out is not the fuel pump grinding itself into a ball of metallic shards and the injectors self destructing, it is a simple mechanical fact that a diesel Kia will simply not run on petrol mixed past a certain point.
The first clue that a kia has been misfuelled would be a starting problem, followed by a lack of power and white smoke.
The white smoke is unburnt petrol, which cannot ignite in the piston because of a lack of spark plugs in a diesel, secondly petrol is specifically fitted with additives to stop it igniting under compression - the very thing that makes a diesel ignite.
Contrary to popular belief although the high pressure common rail pumps fitted to a Kia requires diesel for lubrication to the pumps innards, if there is enough diesel left in the system to keep turning the engine, there will also be enough diesel going thru the pump to provide the minimally needed amount of lubrication.
Although this will not be good for your car by any measure and it should be rectified at the first oppurtunity - it is not as fatal as one might read on the internet while browsing horror stories regarding major parts needing replaced.
If you wish to attempt to drain the fuel from a Kia, assuming you are a tad savvy in the subject of mechanics here's a few pointers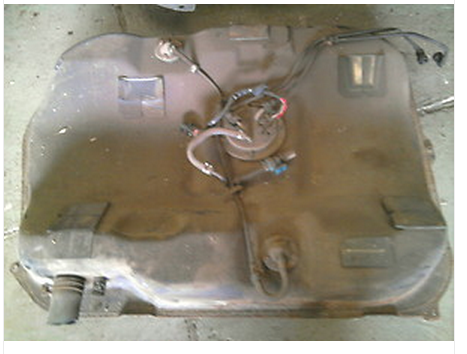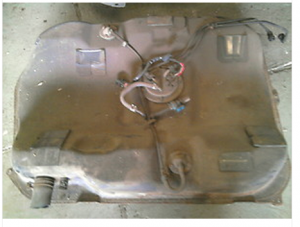 This is the diesel tank from a Kia Carens, it sits underneath the rear bench seat.
you have a number of options to drain these (assuming you are not a fully equipped mobile fuel drainer)
1) you can open the fuel sender unit and suck out the fuel with a syphon
2) you can directly power the in tank pump - thus bypassing the fuel management unit, this would be done if you intercepted the fuel line feeding the engine and re-reouted it into a suitable container
3) you can leave the back seat alone all together and just jump the fuel sender switch at the engine control unit using a piece of wire or suitable device
I would not recomend trying to drain a kia with a garden hose in the tank and the "suck and see" method, we use pumps for this, and have very expensive braided hoses specially made to drain fuel tanks out, if you happen to have one of these then your in luck - and probably dont need to be reading this, more than likely you dont have one, hence the article
If you run into trouble on it or need some advice, just give me a call (not in the middle of the night please)
The boring bit; fuel is flammable, it catches fire, it hurts. be safe
KIA Cadenza
KIA Ceed
KIA Forte
KIA K4
KIA K9
KIA Optima
KIA Pegas
KIA Picanto
KIA Ray
KIA Rio
KIA Stinger
KIA Pregio
KIA Stonic
KIA Soul
KIA Seltos
KIA Carens
KIA Sportage
KIA Carnival
KIA Sorento
KIA Mohave
KIA Telluride
KIA AM928
KIA Granbird
KIA Bongo
KIA K4000s
KIA Ceed
KIA Niro
KIA Optima
KIA Forte
KIA Venga