Fuel Drain Peterborough 
One of the scariest things about driving alone is when something happens to you in the middle of the road or even in front of an unfamiliar service station, such as misfuelling your car. In situations like this one, Fuel Expert surely rises to the challenge by bringing you 20-30 minute rescue and around an hour of fuel draining service in the Peterborough area. You just need to call us at 07720 875212 or at our free number, 0345 3669749 any time of the day, whatever the model of your car is.
We pride ourselves in delivering 99% quality service as among the top companies that remove wrong fuel in the UK. This is how we've accumulated more than 5,000 happy customers in three years.
For fuel drain in Peterborough, we've done the following work:
Fuel drain Werrington. A first time customer who was stranded on Salisbury Road was really surprised to learn we were finished draining four gallons of petrol from his Citroen in 40 minutes, thanks to our fast draining equipment.
Fuel drain Whittlesey. We easily found the Briggate Service Garage on Ramsey Road even at midnight because a lone driver called us for wrong fuel removal. We did it in 30 minutes, after which he filled his Hyundai i40 with diesel.
Fuel drain Yaxley. It was at Little Hampton Service Station that we received the biggest applause after helping out a huge family with several cars when one of them misfuelled his Land Rover Discovery 4 and we removed the contaminated fuel effectively.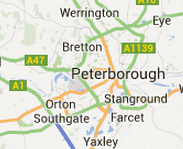 Fuel drain Alisworth. Despite the strong winds and the rain, we couldn't bear to leave our customer in the middle of the Station Road alone. She called at 10pm, we got to her at 10:15 minutes, and finished the petrol in diesel removal for her Porsche Cayenne Diesel by 11.
Fuel drain Haddon.  Extra MSA was full of angry and impatient drivers when we arrived because our customer's Mercedes Benz ML 350 was blocking their way after the refuelling mistake. Despite the pressure from the crowd, we finished our fuel removal process in 45 minutes with grace.
Fuel drain Hampton. Our main office sent us to Tesco in The Serpentine and found our customer's Toyota Verso T Split in the parking lot. After running three miles on petrol, it just won't start but we managed to get it running within 50 minutes of hard work.
Fuel drain Newark. Clubbers called us to siphon petrol from their diesel Subaru Legacy
we also cover cambridge & northampton